Alternative Name
: くま クマ 熊 ベアー
Author
: Kumanano
Artist
: –
Category
: Japanese Web Novel, Adventure, Comedy, Fantasy, Shounen, Slice of Life
Status
: Ongoing
Source
:
Link
Translator(s)/Translation Group
:
Xant & Minions
Subscribe
:
RSS
Description:
Yuna, a 15 year old girl started playing the world's first VRMMO.
She has earned billions of yen in stocks, and confines herself in her house playing the game without going to school.
Today, a major update has arrived and she obtained a non-transferable rare bear outfit.
But the equipment is so embarrassing that she can't wear it even in the game.
Furthermore, when she answers the survey regarding the new update and relaunches the game, she appears in and unknown forest in the bear outfit.
Where is this? Email from God? A different world?
If she wears the bear outfit she's a cheat, if she takes it off she's a normal girl. Her adventure starts just like that. Yuna began doing whatever she wanted.
Xant: Please note, the author has clearly stated he just writes as he goes. Things are haphazard.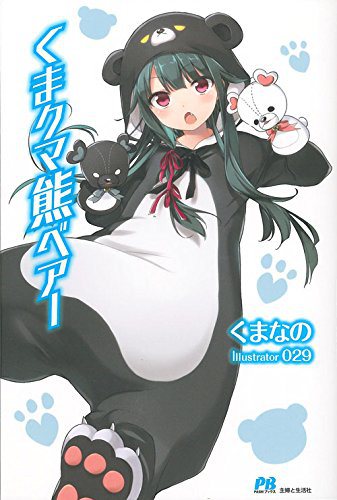 Light Novel Volume 1 Cover
---
Volume 1
Volume 2
Volume 3
Chapter 51 – Kuma-san Departs for the Royal Capital
Chapter 52 – Kuma-san Finds An Attacked Carriage.
Chapter 53 – Together with Kuma-san!
Chapter 54 – Bear-san Catches The Thieves!
Chapter 55 – Bear-san Arrives At The Royal Capital!
Chapter 56 – Bear-san Gets Involved With Noa's Big Sister!
Chapter 57 – Bear-san Goes to the Royal Capital's Commerce Guild
Chapter 58 – Bear-san Constructs a Bear House in the Royal Capital
Chapter 59 – Bear-san Makes Flower Beds With Maid-san
Chapter 60 – Bear-san Obtains Potatoes
Chapter 61 – Bear-san Goes To The Royal Capital's Adventurer's Guild
Chapter 62 – Bear-san Obtains Cheese
Chapter 63 – Bear-san Goes To The Castle
Chapter 64 – Bear-san and The Little Girl Volume 1
Chapter 65 – Bear-san Draws A Picture Book
Chapter 66 – Bear-san Does Her Best For Noa
Chapter 67 – Bear-san Is Peerless
Chapter 68 – Bear-san Negotiates
Chapter 69 – Bear-san, In The Middle Of An Incident
Chapter 70 – Bear-san, Meeting With The King
Chapter 71 – Bear-san Goes Back To Crimonia, For Eggs
Chapter 72 – Bear-san, Baker GET | Part 1
Chapter 73 – Bear-san, Baker GET | Part 2
Chapter 74 – Bear-san Returns To Crimonia
Chapter 75 – Bear-san Purchases A Store
Chapter 76 – Bear-san And The Shop's Reconstruction
Chapter 77 – Bear-san Thinks Of A Name For The Shop
Chapter 78 – Bear-san Opens The Shop